Veneers are extremely thin restorations bonded to the frontal surface of the teeth. They are predominantly used for cosmetic repairs, such as restoring teeth that are cracked, chipped, naturally misshapen, severely discolored, excessively spaced, etc. Along with restoring the aesthetics of the teeth, they improve their oral functionality and protect the structural integrity.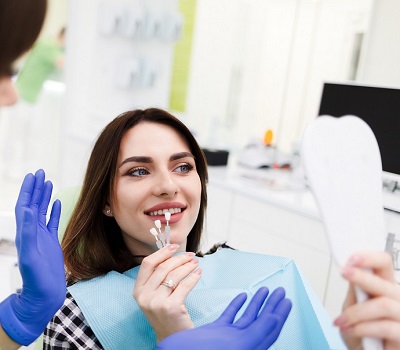 What are the advantages of choosing veneers?
• Veneers are pretty easy to fabricate and bond to the surface of the teeth
• They are made from dental-grade ceramic or composite resin, both of which are tooth-colored material
• They are highly resistant to damage and wear
• They can be fabricated and placed on the teeth in as less as two visits to the dentist's practice
• Veneers do not require an extensive preparation phase
• They do not stain easily, allowing you to maintain a pleasing smile for many years
What is the procedure required in placing dental veneers?
When you visit our dental practice to get your oral concern treated, we will take x-rays of the mouth and visually screen the teeth to get a better understanding of your condition. Once the dentist confirms your candidacy for veneers, we will go ahead and prepare the tooth for restoration. A thin layer of enamel will be removed from the tooth by gently shaving it to make space for the veneer. We will take highly-precise digital scans to create a 3D impression of the tooth, which will be used to fabricate the veneer in a dental laboratory.
After the veneer is fabricated, which would take a few days, we will schedule a second consultation for you to bond it to the tooth. The tooth surface will be cleaned thoroughly and etched using an etching liquid. This allows the veneer to adhere to the tooth surface well and keep it from slipping off. Once the contour and fit of the veneer are finalized, we will bond it to the tooth using dental adhesives and harden it. After taking a bite test, we will enhance its aesthetics by polishing it.
Please schedule a consultation with Dr. Rodriguez by calling us at (949) 916-8922 or reaching us through an online query, and we'll be happy to guide you further.