Dental braces are the most sought-after orthodontic appliances used to treat a malocclusion. They have been in use for many decades now and are known to be highly effective in treating almost all types of teeth misalignment issues. They work on the principle of applying pressure on the teeth in a controlled manner in a particular direction, thus aligning them as required.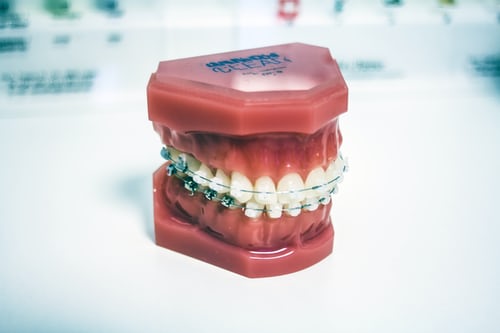 What are braces made from?
Dental braces are made from metal wires and brackets. The brackets are attached to the teeth using dental adhesives. The wires are run through the brackets, and their ends are fastened to a support. The dentist tightens or loosens the wires to apply pressure to the teeth, which allows the teeth to move gradually to their orthodontically right positions. In some cases, the braces may be combined with rubber bands or wires for added functionality.
What are the types of braces?
• Conventional dental braces: Conventional or traditional braces are made from metal. Both the brackets and wires are metal, which makes them rigid, strong, and also leave quite an apparent and lustrous appearance on your smile.
• Clear braces: Clear braces are made from transparent or tooth-colored ceramic brackets and wires. These braces are visually more pleasing than conventional braces as they tend to stay under disguise with the teeth. However, they are known to be just as effective as regular braces.
• Lingual or hidden braces: Sometimes also known as invisible braces, these braces are placed on the inner sides of the teeth that are facing the tongue. This feature keeps them completely hidden when you laugh, smile, or talk.
What is the treatment procedure involved?
The dentist will visually screen your mouth and run a couple of tests when you visit us for the initial consultation. This helps us understand the type and severity of the malocclusion. Next, the dentist will suggest the most suitable treatment plan based on the observed data.
Before starting your procedure with dental braces, teeth may have to be extracted from either side of the jaws to make space for the movement of the teeth. After the wounds have healed, we will set the braces in place and advise you on how to care for them. Also, we will set periodic consultations to monitor the progress of the treatment procedure and make the necessary changes to the tightness of the braces. The treatment period may last between a few months to a couple of years based on the severity of your malocclusion.
Please schedule a consultation with Dr. Rodriguez by calling us at (949) 916-8922 or reaching us through an online query, and we'll be happy to guide you further.